An exhibition of art and archaeology, coordinated for Theoretical Archaeology Group 2019
Displayed at Syracuse University May 2 – May 6, 2019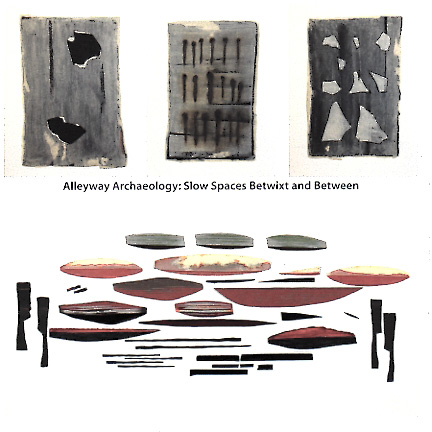 This display is a collaboration between New York City artist Cora Jane Glasser and the Spring Street Archaeology Project. Thank you for following along on our social media accounts as we installed the display and attended TAG 2019 at Syracuse University.
Please check back as we update this page to include images and information about the display.
Spring Street Archaeology Project on Facebook
Cora Jane Glasser on Facebook
Cora Jane Glasser on Twitter
Cora Jane Glasser on Instagram
Abstract for "Alleyway Archaeology: Slow Spaces Betwixt and Between"
Katherine E. Hicks, Melissa M. Darroch, Shannon A. Novak
At the corner of Spring Street and Varick in fashionable Soho Manhattan, a temporal and spatial rupture was exposed between an unassuming car park and neighboring building. This "noplace" became "some-place" in the winter of 2006, when burial vaults and their contents were unearthed during construction of Trump Tower Soho. Rediscovered on historical maps and in archival records was the Spring Street Presbyterian Church (1811-1863). This was a gathering place for people from diverse ethnic, racial, and class backgrounds, led by pastors preaching a radical abolitionist stance. It was also a target of mobs during the 1834 race riots, when the church was occupied and vandalized. While a city was in chaos above, quietly resting below were the corporeal remains of some 200 people associated with this unique congregation. Active for only about 30 years (ca. 1820-1850), the burial vaults would, over time, fade into noplace as things came and went in the alleyway above. Yet rather than firm boundaries in time and topography, our exhibit considers permeable borders and transformative processes of experience and memory. Presenting the work of New York City artist Cora Jane Glasser alongside the historical artifacts that inspired some of these pieces, this exhibit draws on her previous work with "voids" – absences, gaps, or that which is unseen or unknowable – to explore modern perspectives of the past.
Artist Statement for "Alleyway Archaeology: Slow Spaces Betwixt and Between"
Cora Jane Glasser
By observing urban architectural and structural elements, I document the passage of time, and the way recasting – or preserving – the constructed city affects our relationship with the built and natural environment. Employing a variety of materials and mediums, I explore tensions between old and new, solid and void, presence and absence, using objective abstraction to evoke gut recognition and an ambiguous sense of time and place. I first became familiar with the Spring Street archaeological project in 2014 when I was invited by the present day First Presbyterian Church to create an art exhibit as part of a memorial event relating to the excavation. It was there that I met Shannon Novak and learned of her work at Syracuse University. Our notion of an art and archaeology exhibit has now come to pass. This exhibit includes existing work exploring the void, in which I posed a question, "what will we leave behind, and will it be remembered?" Visually, the void, though seemingly empty, contains the unknown, much vaster than what we see. Other work in the exhibit, loosely titled "Artifacts", are paintings inspired by actual artifacts from Spring Street, as well as writings about the project and about Slow Archaeology.
Reference Material and Further Reading
We would like to thank Guido Pezzarossi and the TAG Syracuse 2019 Organizing Committee, The Maxwell School, and Syracuse University for the opportunity to share this exhibit.